Wild Food Foraging
Wild food foraging is the gathering of edible plants (leaves, berries, nuts or sap) and fungi that are available in nature and that have had no management to increase their production. Wild foods were once necessary for human survival, but most traditional knowledge of wild food has now been lost as we have become more reliant on a globalised food system.
Many of the plant species that we view as weeds are edible and nutritious but modern farming favours foods that in many cases have been cultivated from their wild ancestors but are easier to grow in large quantities.
Wild food plants and fungi form a part of the rich diversity of species that is vital to the functioning of ecosystems but many of these species are being lost due to habitat destruction and pollution.
We clear away 'weeds' to grow crops, yet many wild plants are more nutritious than their cultivated counterparts.
For example the edible wild plant 'fat hen' contains more iron and protein than spinach, and more vitamin B and calcium than cabbage. As with many other wild foods it can also be cooked in the same way as the vegetables we regularly eat
Here we have some wild foods commonly found in and around the Wakefield district:
Most of the fruits, etc. are easily recognizable but please be aware that unless you are certain of what you are picking leave well alone.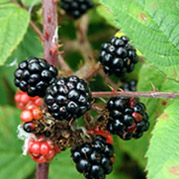 Blackberries
Grows pretty much anywhere along hedges and roadsides. Great for wine, jams, pies, etc.
From: Late Summer
To:Autumn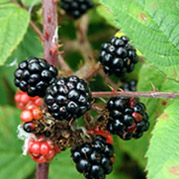 Damsons
The fruit when ripe tastes as good as plums and makes really good jam. Use wherever you might use plums.
From: Early Autumn
To: Mid Autumn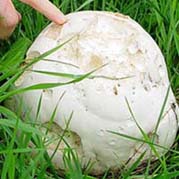 Giant Puffball
No mistaking these! They are pure white throughout (don't use if discoloured). Mild taste too.
From: Mid Summer
To: Early Autumn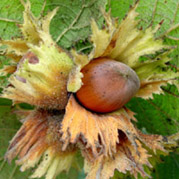 Hazelnuts
Grows along field boundaries, lanes and the edges of woods. Look for untrimmed bushes for the most nuts.
From: Mid Autumn
To:Mid Autumn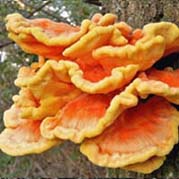 Chicken in the Woods
Grows out of the trunk of decaying oaks - really has a chicken flavour and texture.
From: Mid Summer
To:Mid Summer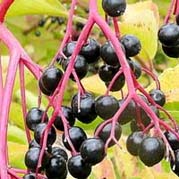 Elder Berries
When the berries ripen it's said to mark the end of the summer - but they are prolific and make really good wine, pies, syrups, etc.
From: Mid Summer
To:Mid Summer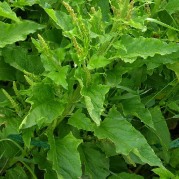 Good King Henry
Forced young shoots can be used as an Asparagus alternative, young leaves as a Spinach alternative.
From: Early Summer
To:Mid Autumn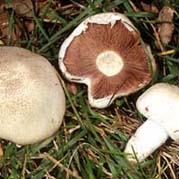 Field Mushrooms
These can grow quite large and taste very like the cultivated types.
From: Late Summer
To:Mid Autumn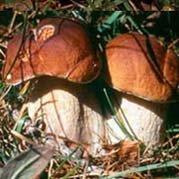 Cep (Penny Bun)
It's not common but worth it as they grow quite large and are packed with flavour.
From: Mid Summer
To:Late Summer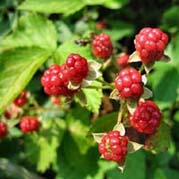 Raspberries
The fruit is not as big as their cultivated cousins but they can grow in large patches (disused railway lines are a favourite).
From:Mid Summer
To:Late Summer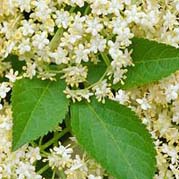 Elder Flower
Good for cordials, wine and even battered as fritters (but not very filling!).
From: Early Summer
To:Early Summer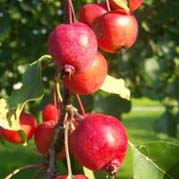 Crab Apples
These tough trees produce heavy crops most years - good for jellies, wines, (Crab Apple Cheese), etc.
From: Late Summer
To:Early Autumn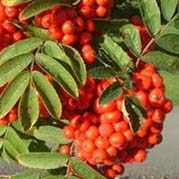 Rowan
Also known as the Mountain Ash, these small trees produce heavy bunches of berries in the autumn. Makes a really good wine!
From: Mid Autumn
To: Late Autumn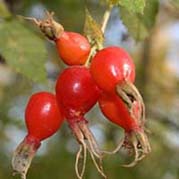 Rose Hips
Good for wines, jellies, syrup, etc. Pick when fully ripe and soft (after the first frosts is good).
From: Early Autumn
To:Late Autumn